It isn't the first time that we did Glamping. But, when we heard there is glamping spot in Siquijor, instantaneously, we knew we have to experience it.
This guide unveils GLAMPING SIQUIJOR, the perfect place to get yourselves at when traveling to the province of Siquijor.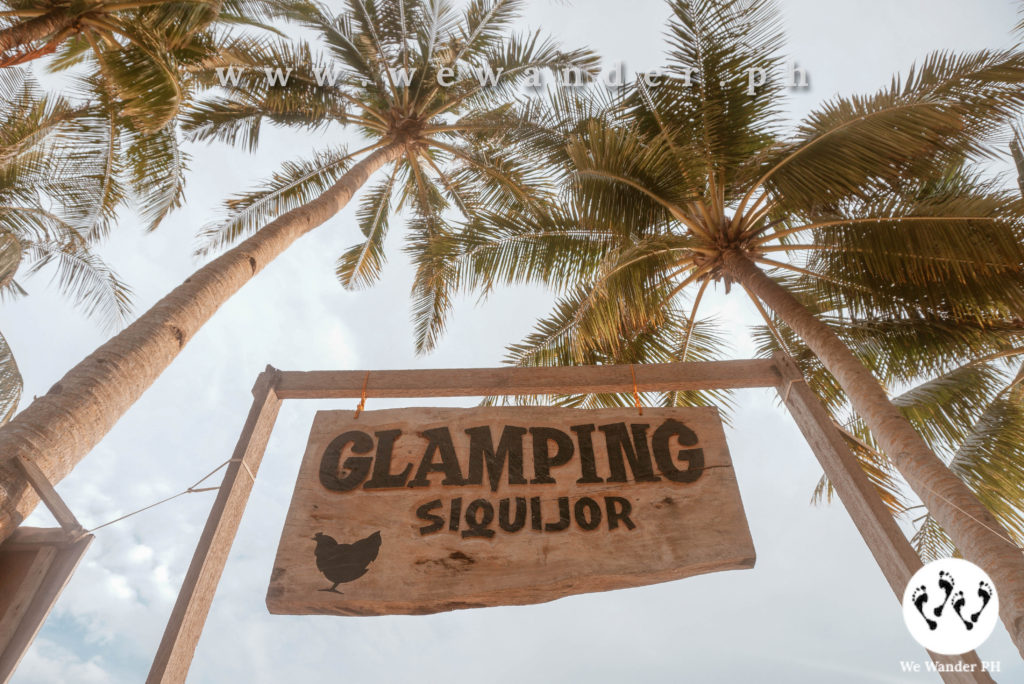 A day tour visit in Siquijor is somehow short especially when you really want to experience everything from food, its tourist destinations and the everlasting excitement for sunset and sunrise scenes. If you have the time to stay for two days or three, spend a night here in Glamping Siquijor.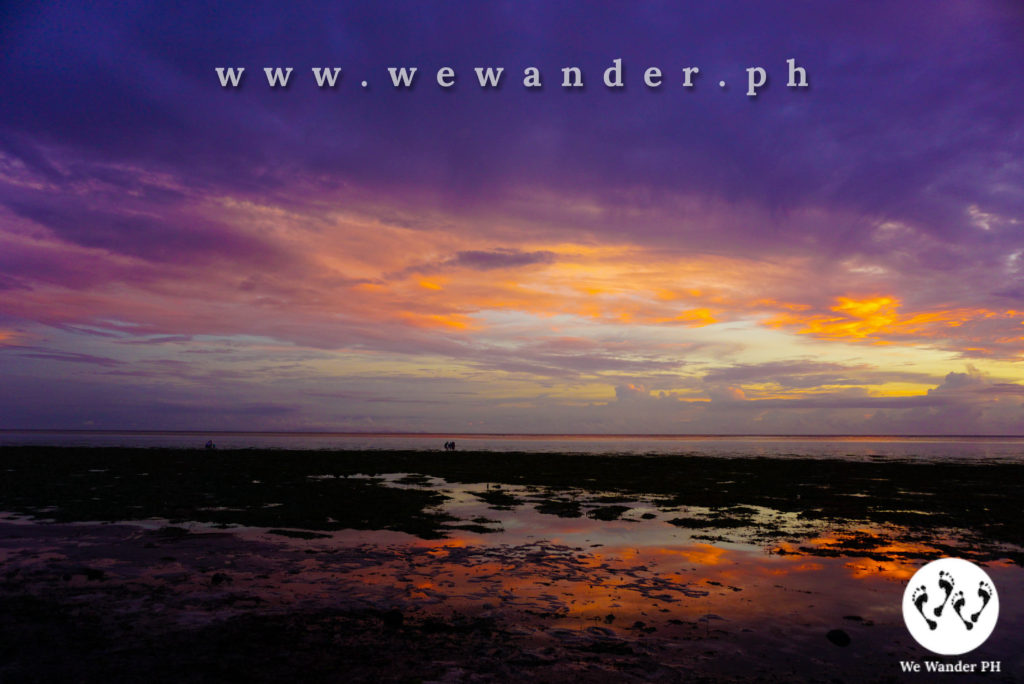 This place offers an alfresco vibe perfect for travelers. Surrounded by tall palm trees and unobstructed view of the beach, you won't regret anything here. Each glamping tent has their own sets of chairs and tables at front where you can nonchalantly chat with your travel buddies. Add a few super cold bottle of beers? Perfect!

Inside the tent is spacious with super-sized bed with enough ventilation and supply of electricity to power up your gears and gadgets.

Walk around and you will find their hanging hammocks, play beach volleyball or make friends on the common area at night when they lit the fire for some bonfire!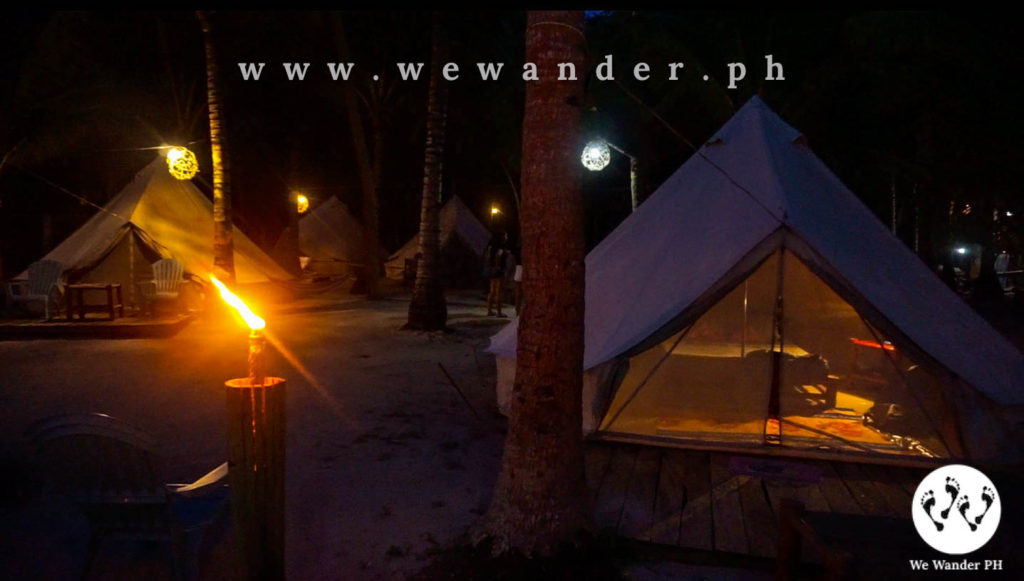 Glamping Siquijor lets you cook with free use of their cooking utensils and range of condiments. You can also ask for the barbeque grill, free doughnuts and coffee during breakfast, what else can you ask for?
The Food
As of September 2018, Glamping Siquijor does not offer food for their guest but they have a small store to get your beers and some basic needs. Few walks away from their place you will find restaurants and stores.
Rates
Tent prices may vary depending on some factors. For glamping tents with beach front and unobstructed view, the rate is Php2,500 per night plus Php500 for each additional person. Other tents ranges from Php1,500 – Php3,500 with capacity from 2 to as much as 12 person.
They also offer Dorm Room which is Php500 per guest with minimum occupancy of 6 – 8 person.
Amenities and services are provided fairly to everyone and each tent has its own private deck space, outdoor furniture and personal barbeque grill.
Other Services and Facilities
Hot showers and toilets are located in a shared block and few separate rest rooms near the parking spaces.
Glamping Siquijor can arrange island tours, port pickup and rental of scooter/motorbikes.
Standard check-in time is 3pm and check-out is at 11am. You can leave your things in their storage area if you think you will arrive early while they're preparing your accommodation. If you are out for island tour and expected to return late, you can also ask to keep your belongings with them.
Contacts
Glamping Siquijor: 0908-5319-763
Facebook & IG Pages: @Philippines.Glamping
Email Address: glampingphilippines@gmail.com
Website: http://glampingphilippines.com/
How to Get There
Dumaguete – Siquijor
Going to Siquijor is easy. There are regular ferry schedules from Dumaguete Port to Siquijor Port as early as 7am until 4:30pm. Shipping lines like Oceanjet, Montenegro Lines and GL Shipping Lines are some of the few that offers transport services from Dumaguete to Siquijor and vice versa. Fare ranges from Php130 – Php240. Travel time is 1 hour – 1.5 hours average.
Cebu City – Dumaguete – Siquijor
From Cebu City, ride a bus going to Liloan, Santander. Average travel time is 4 hours depending on road condition. From Liloan, get the ticket for ferry bound to Sibulan, Negros Oriental.
Once in Sibulan, hop on a jeepney or tricycle and drop off at Dumaguete Port. Nearest landmark are Siliman University and Rizal Boulevard.
Siquijor Port – Glamping Siquijor
From Siquijor Port to any areas around the island, you can choose to rent a motorcycle, ride a tricycle or hop in on their multicabs.
You can check the image below as reference. You can also ask the locals for other options or haggle for discount.

You may contact our tour guide in Siquijor, Kuya Jessie Clar at 0926-9330100.
Additional Things to Consider
Book your accommodation in advance especially during peak seasons (summer)
Coordinate your island hopping tour in advance
There are few ATMs in the island, prepare your cash before going to the island
Protect your belongings, waterproof them especially your cash, gadgets and other important items
Plan your trips and prepare your itinerary, budget ahead of time
Always check the weather going in and out of Siquijor/Dumaguete
Respect the locals and their culture
Help preserve Siquijor – do not leave your trash on the islands or its waters
Enjoy!
So, what are you waiting for? Plan your trip now to Siquijor and exprience glamping with your friends. Even this doggo knows how to chill!