Let's admit it. This prolonged quarantine and pandemic scenes are taking a toll on our sanity. We are tied up at home doing almost the same things every day, feeling unproductive at times.
We all need a breather. We all deserve a relaxing place to reboot and be back to our happy selves.
With this travel guide, we will share with you the newest place to treat yourselves, and it is only in Antipolo, Rizal!
About Mountain House
The Mountain House is located in Brgy. Calawis, Antipolo, Rizal tucked in the middle of the lush greens in a protected watershed area within the Sierra Madre mountain range.
Originally a family home and was opened to the public in March 2021. The main house can be rented at Php15,000 with 5 bedrooms and 2 toilets and bath that can accommodate up to 12 persons.
There are 2 glamping pods that can lodge 2 – 3 persons and has access to 6 toilets and bath just a few steps away. An outdoor kitchen is also available where you can cook and grill your food with free use of the stove, cooking utensils, etc.
The Glamping Pod
The glamping pod is an "A" type cabin perfect for couples and smaller groups with a maximum capacity of 3 persons. It comes with a set of beds and pillows, an electric fan/cooler, a table and chair and a spacious patio where you can dine and enjoy the calming river and nature view.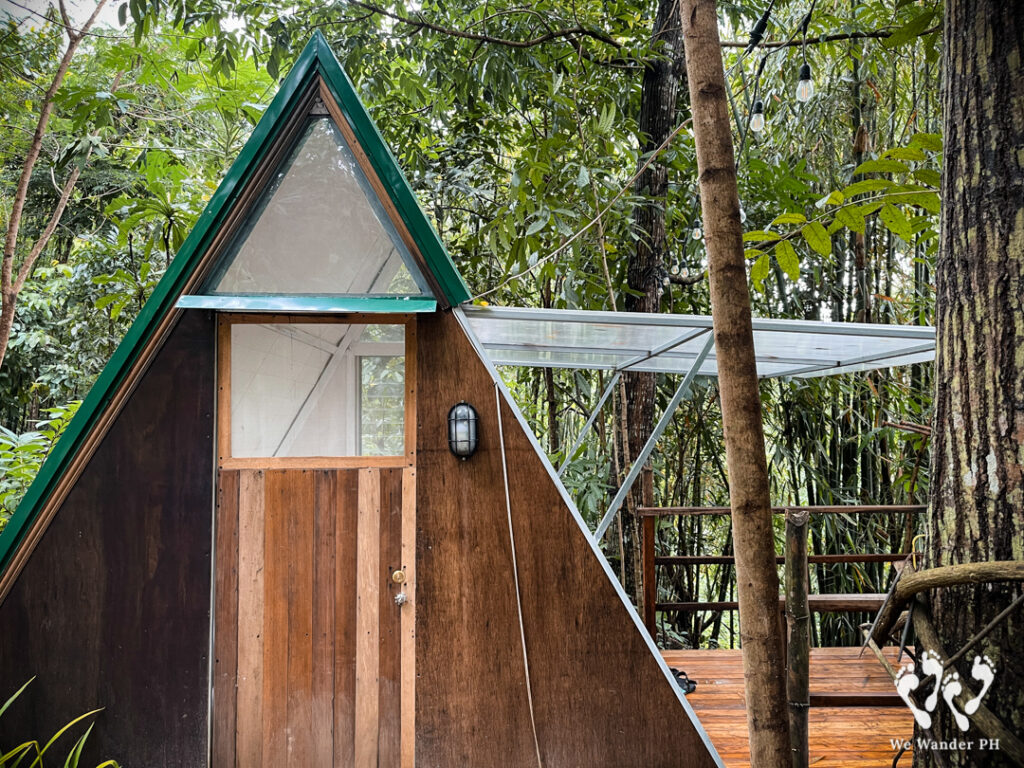 What is more pleasing about their glamping pods is that they are perfectly spaced out from one another giving you privacy and safety especially during this time where minimal or no interaction is vital.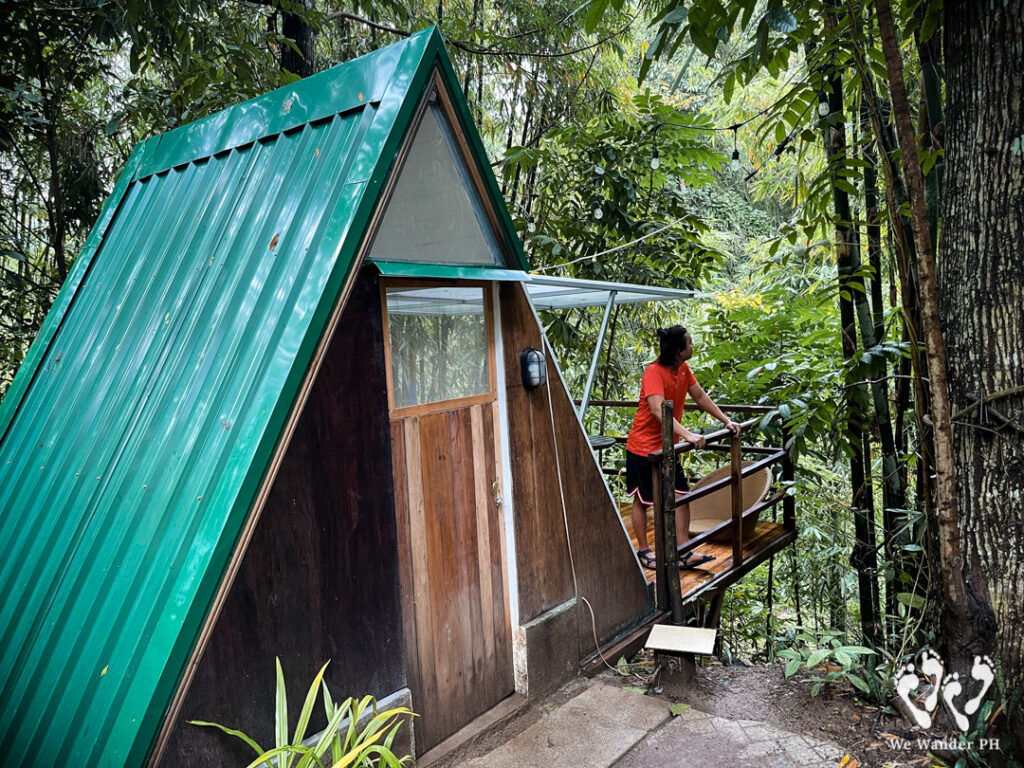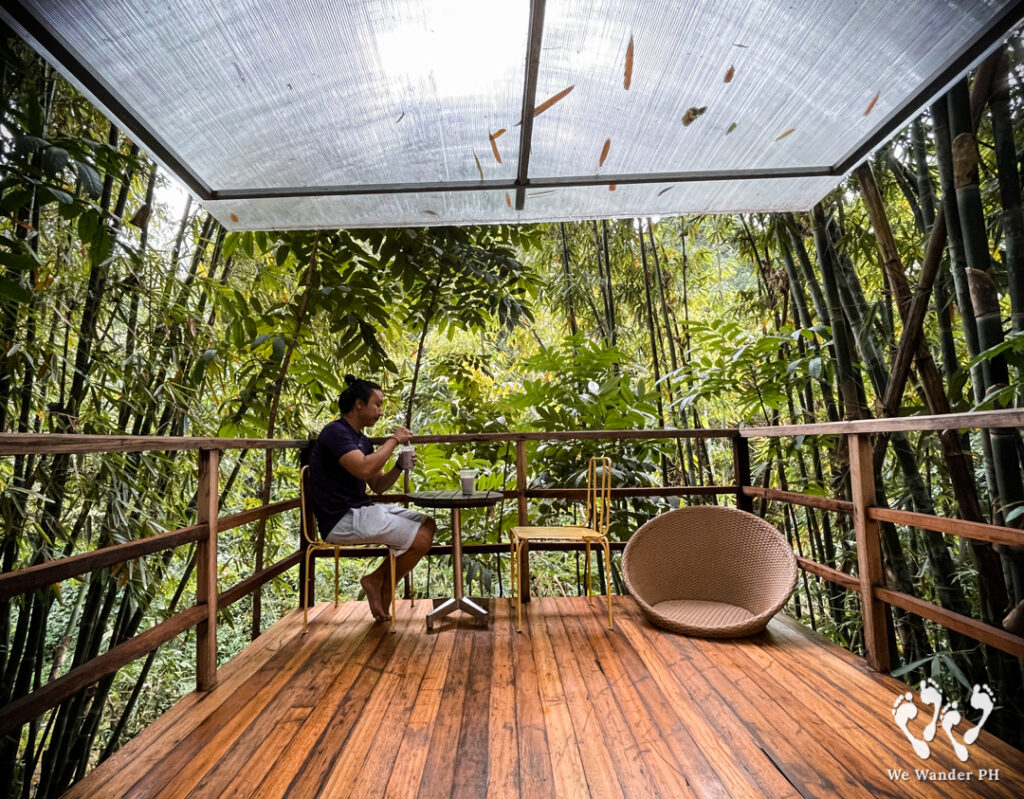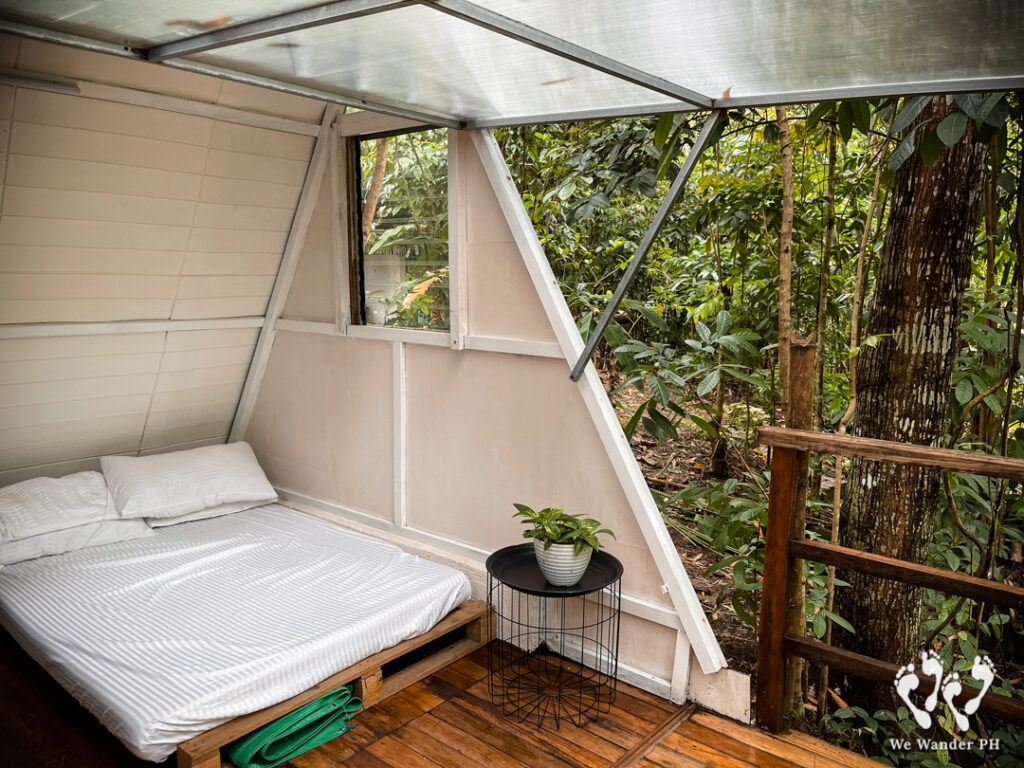 The glamping pod is priced at Php4,500 with a current promo of Php4,000 as of August 2021.
Outdoor Kitchen
The outdoor kitchen is free of use with a stove and grilling station. All cooking utensils, cutlery, and crockery are available for guests.
After use, make sure to clean them and put them in their designated area. For any concerns and assistance, you may reach out to their staff.
Bringing of Food
Guests are allowed to bring their food without a corkage fee. You may cook using their outdoor kitchen or grill with free use of charcoal.
If you wish to order food from Mountain House, make sure to pre-order them by filling up the Acknowledgement and Order Form.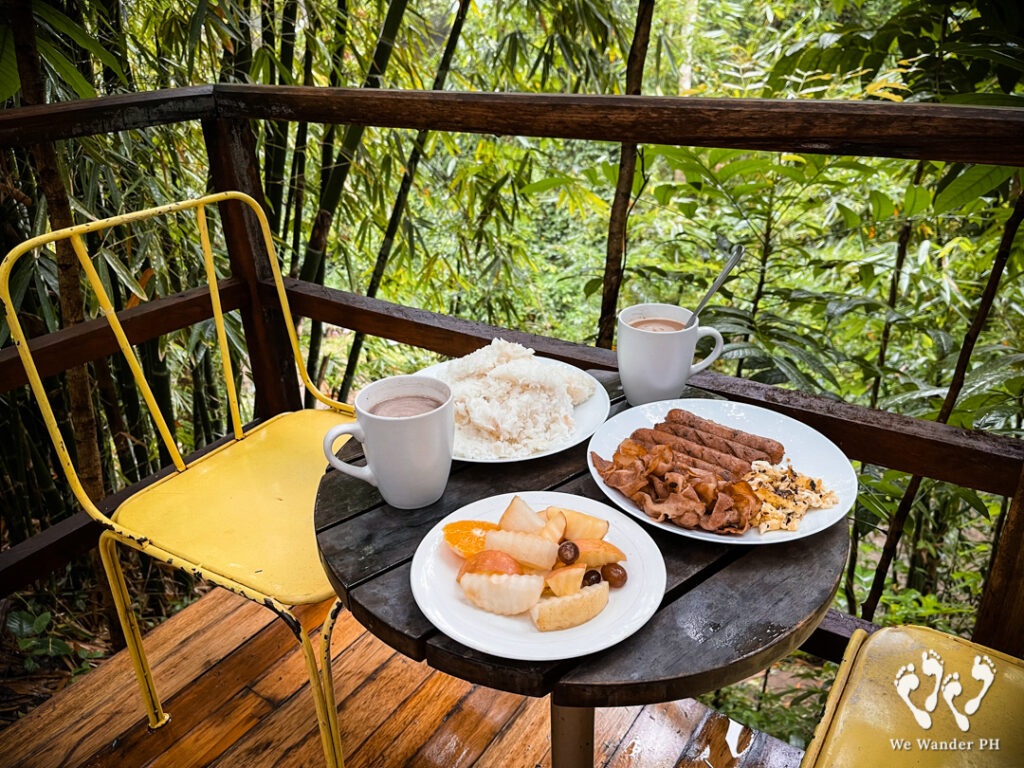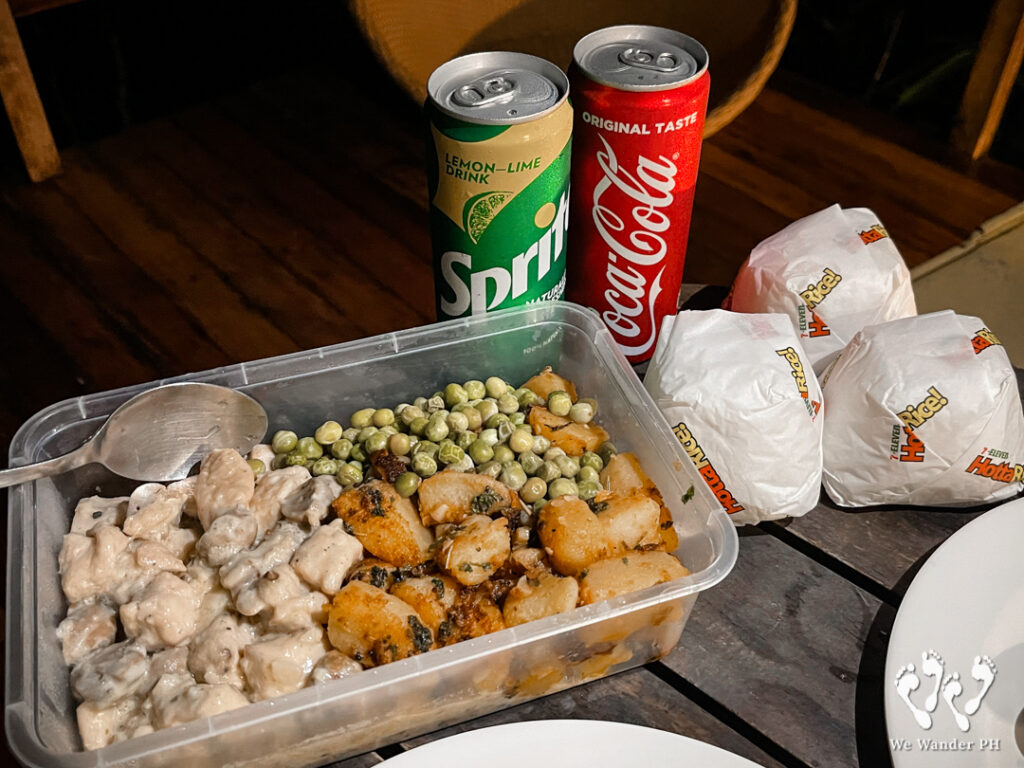 River and Waterfall Trek
Guests who love to do outdoor activities will love to avail the River and Waterfall Trek. It is a 3-hour morning activity where you can enjoy nature tripping with your kids and friends. On this activity, your tour guide will accompany you to ensure your safety. This activity should be put in the Acknowledgement and Order Form and submitted before your actual visit.
There is also an ATV Tour. For rates and other concerns, you may coordinate it directly with The Mountain House.
Glamping at Night
Turn on the lights!
Who would've thought that the already beautiful glamping pod could be more appealing? Imagine the light coming out from your glamping space while surrounded by trees at nighttime. Just perfect!
It is very relaxing and rewarding and suitable for late-night talks. Just be mindful and minimize noise after 9PM.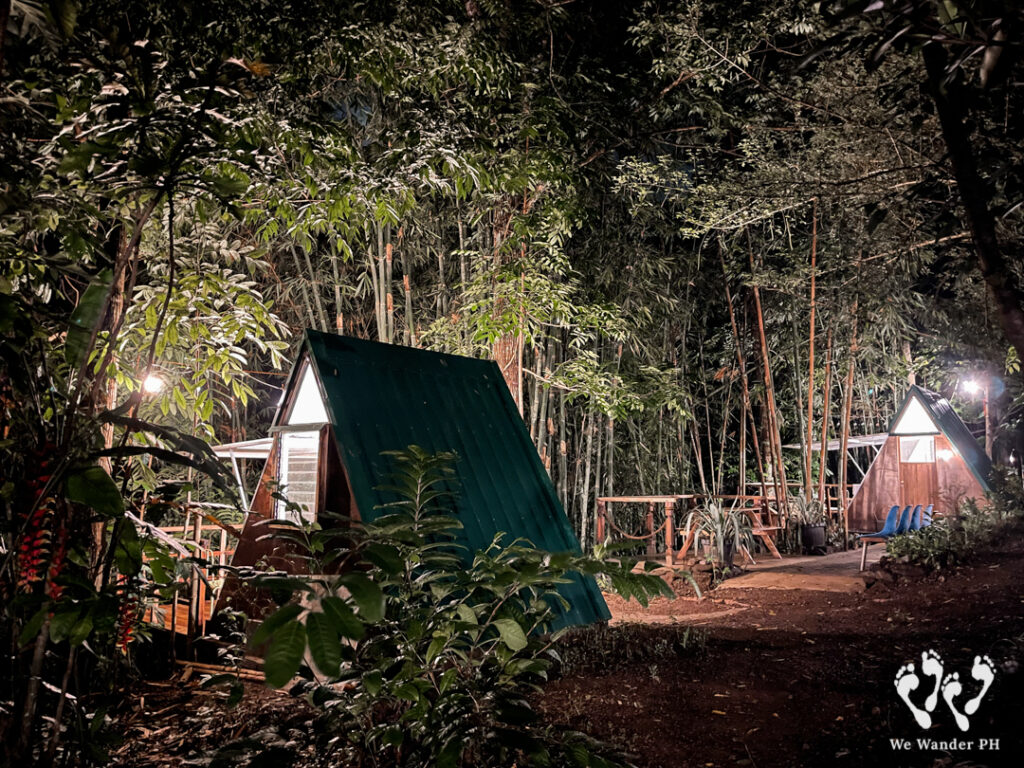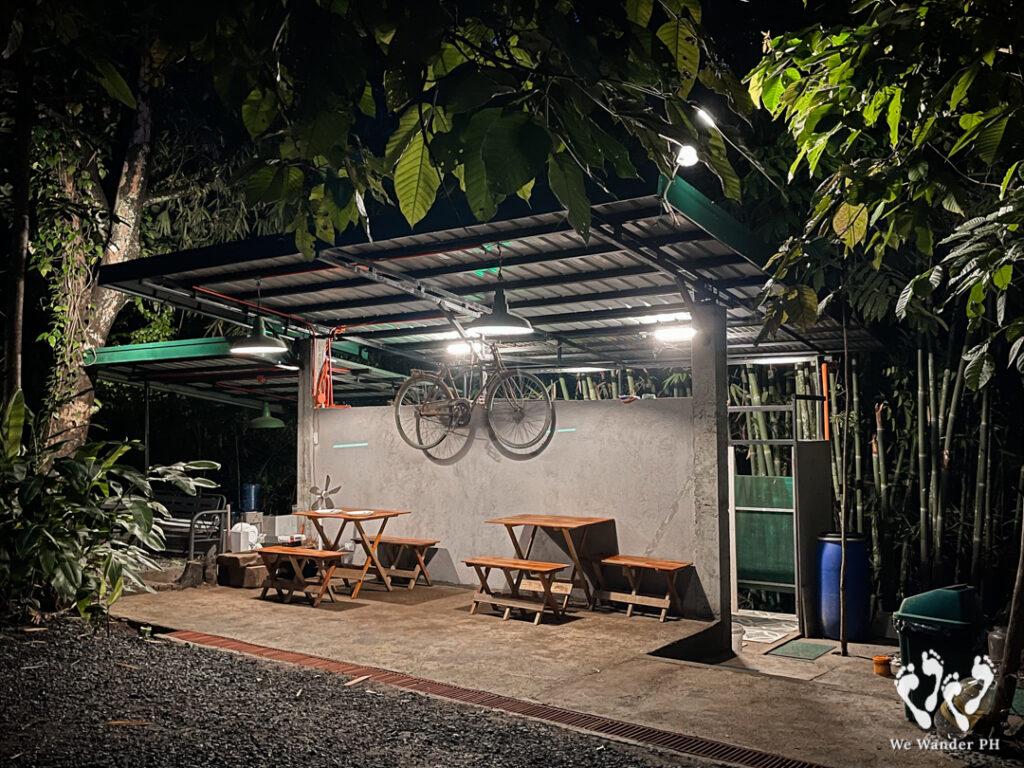 The Overall Experience
Our Mountain House and glamping pod experience is no doubt worthwhile. We were looking for a place near Manila and The Mountain House is a suitable place to de-stress.
A calm and nature-infused location is perfect for people taking a break from work and city life. Here, you don't need to interact with other people. There are no deadlines and rush reports. There are only you and nature and two words – enjoy and relax.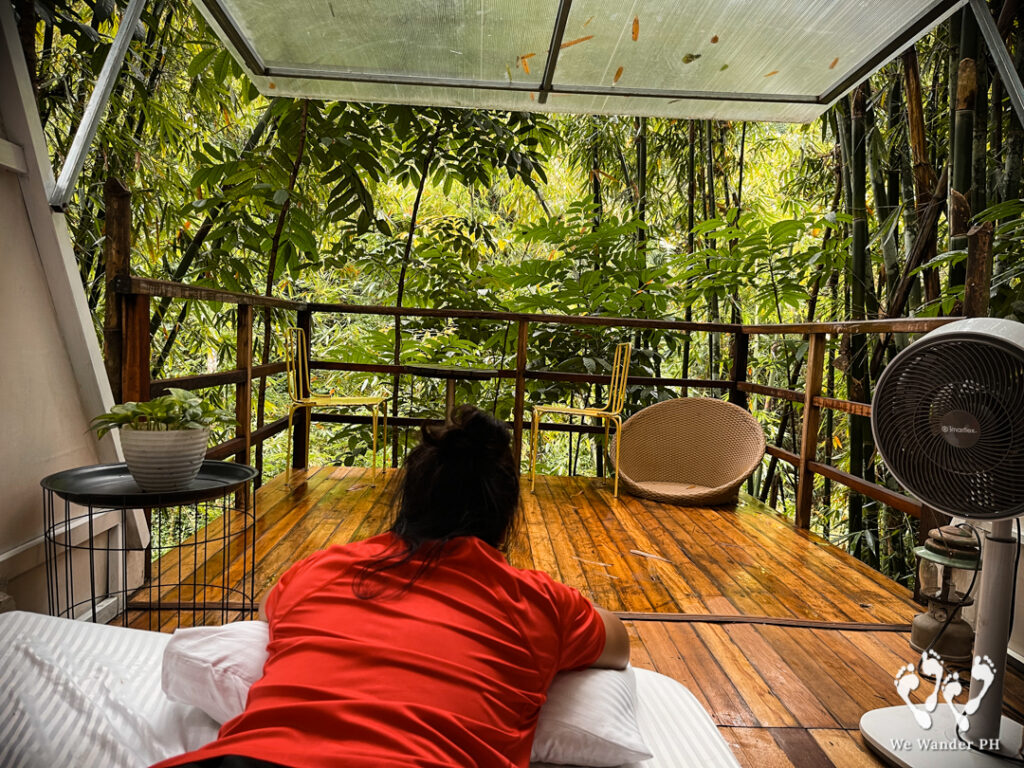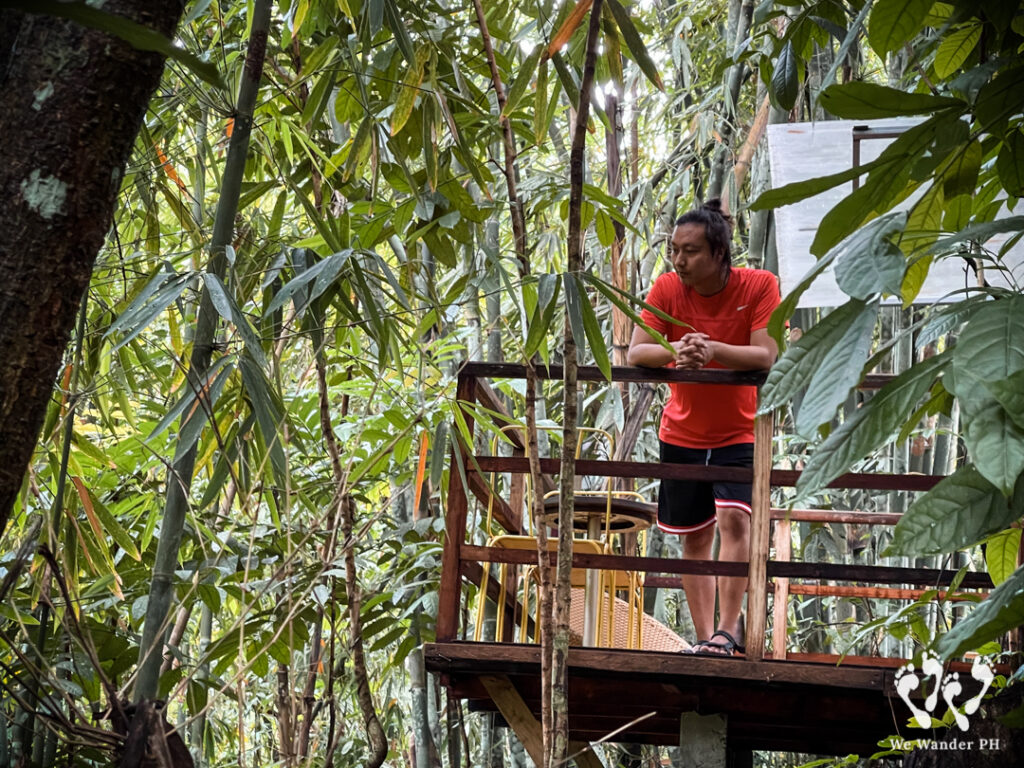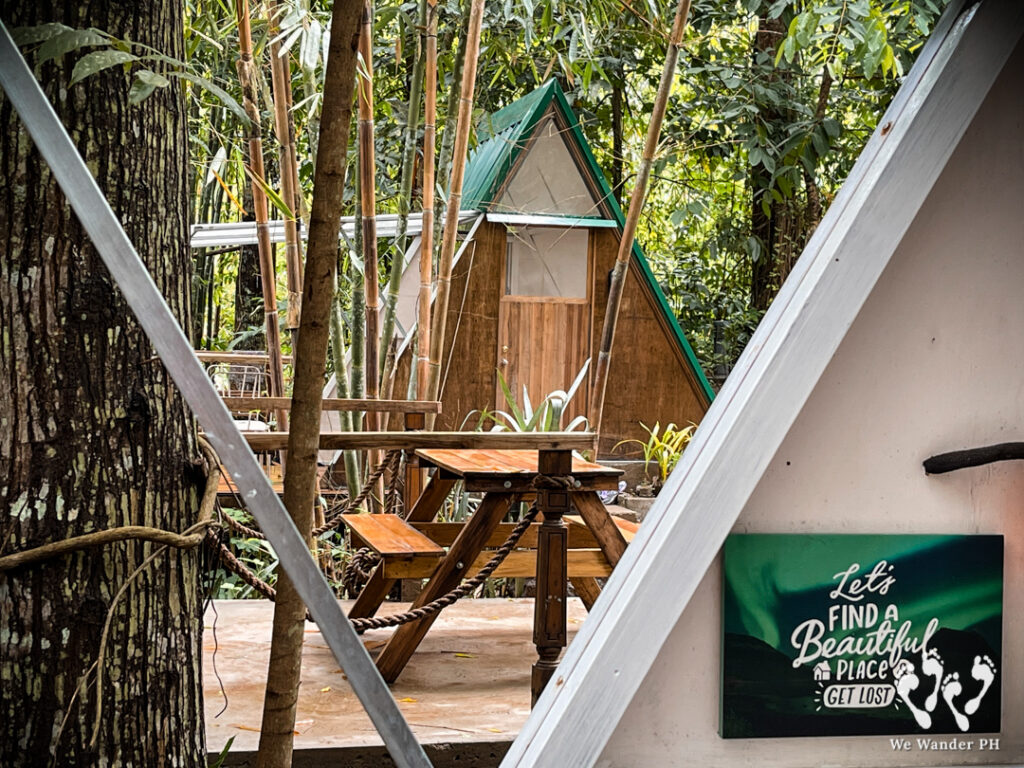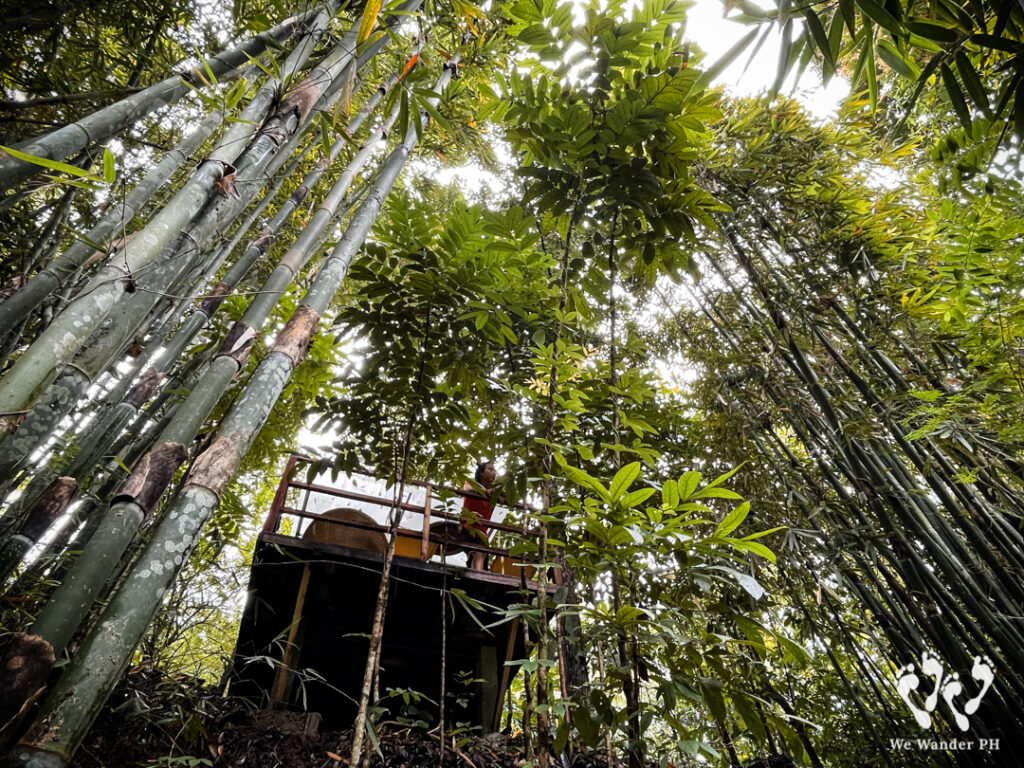 House Rules
These are some of the House Rules at The Mountain House.
Treat staff with courtesy at all times.
Keep an eye on children at all times.
Use resources like water, power and the like carefully. Do not waste.
No Smoking
Minimize noise after 9PM.
Walk barefoot on the bamboo flooring.
Segregate waste. Bring home your non-biodegradables.
Keep things in good order.
How to Book or Reserve
Reservation is required prior to your visit. You may schedule and book thru their Facebook page at The Mountain House or contact them with the below details:
Contact Number: 0999-999-7558
Email Address: themountainhouse.ph@gmail.com
How to Get to Mountain House
Via Public Transport:
1. Take a jeepney going to Cogeo along Marcos Highway
2. From Cogeo, ride a jeep heading to Paenaan (drop-off point: Kanto veterans)
3. From Kanto Veterans, ride a tricycle going to Brgy. Calawis' welcome signage
4. Take another tricycle heading to Mount Purro Nature Reserve

Via Private Car:
Option 1

The best way to go to the Mountain House is thru Barangay Cabading:
1. From Ateneo, go straight to Marcos Highway. You will go past SM Masinag and Sun Valley/Eastland. Just go straight (around 30 mins). Watch out for the sign Loyola Memorial Park.
2. Turn left to Brgy. Cabading (right before a huge ark that says Welcome to Upper Marikina Basin). Just go straight until you hit the Loyola Memorial Park where the road forks.
3. Take the right side and just go straight. You'll know you're on the right path if you see mountains up ahead. Road slopes down.
4. Watch out for a public school building to your left. There are 2 roads to the right. Skip the first one (sloping up)
5. Shortly after the 1st street in front of the school, turn right on the second road (still in front of the school). You'll know you're on the right track if you pass a small bridge. There will be a short patch of the rough road after the bridge. Just follow the road from there (10-15 mins), taking the right side whenever it forks. From here, you might feel lost but you'll know you're on the right track if you pass Patio Calawis restaurant, and many small houses, another bridge, and Kalaoasis. Just go straight until you see Mount Purro Nature Reserve your right.
*If you feel lost and have to ask bystanders, ask for direction to Mount Purro Nature Reserve or Apia.
6. right after the Mount Purro Nature Reserve (a camp), you'll find the Mountain House to your left. It has a white grill-type gate.

Option 2
Use Waze and pin Mt. Purro Nature Reserve / Camp Explore.
Once you arrived at Mt. Purro, continue straight for 100-200 meters only, there you'll find the Mountain House gate on your left.
Comments
comments