It's a weekend and you only have 500 pesos in your pocket. How will you make the most of it? Are you wondering where a measly 500-peso budget can take you? Well worry no more fellow wanderers, because we will take you on a journey where you can go caving and nature tripping.
I was lying in bed on a Friday night (Nov. 4, 2016) and cracking my brain of a good weekend getaway. With my budget and the time constraint, I was considering Bulacan, Laguna, Cavite, Batangas and Rizal. The few places I know near Manila that is more likely to quench my thirst for adventure. It was unfortunate that hiking was out of the list of things to do that weekend because the weather was a little cloudy with chances of rain. Oh well, there'll be other days to explore the mountains and we'll make sure to share them with you in future posts.
After doing our research, we have settled with Tanay, Rizal. We found out that there are so many things to do in the area aside from just trekking the mountains. Thus, our 500 – peso Tanay adventure began.
We drove from Manila to Tanay with 300 pesos worth of diesel for Black. The drive took 3-4 hours to Tanay. The route would be wheeling straight from Ortigas to Tikling, Taytay then stretching to Antipolo following the Marilaque high-way passing to National Housing Authority Avenue. We continued driving the slopes until Tanay-Sampaloc Road and after a few sides and turns we arrived at our first destination.
Calinawan Cave
Calinawan or Kalinawan Cave is one of the most accessible destination you can include in your DIY's itinerary around Tanay. We arrived there at around lunch time. Though famished, we just couldn't help ourselves to start the adventure. These are the standard fees:
Entrance fee

 

=

 

Php 20 per head
Guide fee

     

=

 

Php 200

Head gears for safety
With our charm, we were able to get a bargain by letting another couple join our group. Us four ended up paying a total of Php 320!
The caving activity was well organized. They have head gears for guests' safety and provided flashlights since it was dark inside.
Tebs, our guide, told us the story of Calinawan Cave. According to her, the name was derived during the times when Filipinos and the Spanish revolutionaries came to an agreement. This truce promoted "linaw", a Filipino term meaning clarity. And so "kalinawan", a Visayan word for peace was used to call the cave.
The cave is rich with different rock formations, stalactites and stalagmites. There are several levels to the cave but only a few are open to the public.
The tour of the cave was no easy feat. Be ready to stretch, duck and crawl. The floor is also slippery and there are sticky muddy parts so make sure to wear durable footwear. The locals were very creative with coming up with names for the paths inside the cave. Some of the names include rayuma-arthritis, military training, pusong bato, baby crawl, tsunami and sexy walks. These witty names added to the fun of the experience and will make one appreciate the place more, not to mention the history, beautiful rock formations, glittering walls and even the house bats and other cave creatures.
The caving activity would take 20-30 mins plus time for taking pictures. Here's how the exit rock formations look like:
We had burger with egg and drinks for snacks which were available in the area. The entire experience was great and the locals were accommodating. And we still have money to spare for our next destination!
Daranak Falls
We headed next to Daranak Falls which is a 15 – 20 – minute drive from Calinawan Cave. The waterfalls is one of the most popular destinations in Tanay. It is a 14-meter high water fall shaped like a basin which serves as a natural pool. You would want to jump in there and experience the refreshingly-cold, limed-green water.
Daranak falls is open daily from 8:00 am to 5:00 pm. You may bring food or buy from the stores in the area. They also have floaters (rubber tube) for non-swimmers. Local life guards and guides are present to attend to visitors' concern. These are the fees: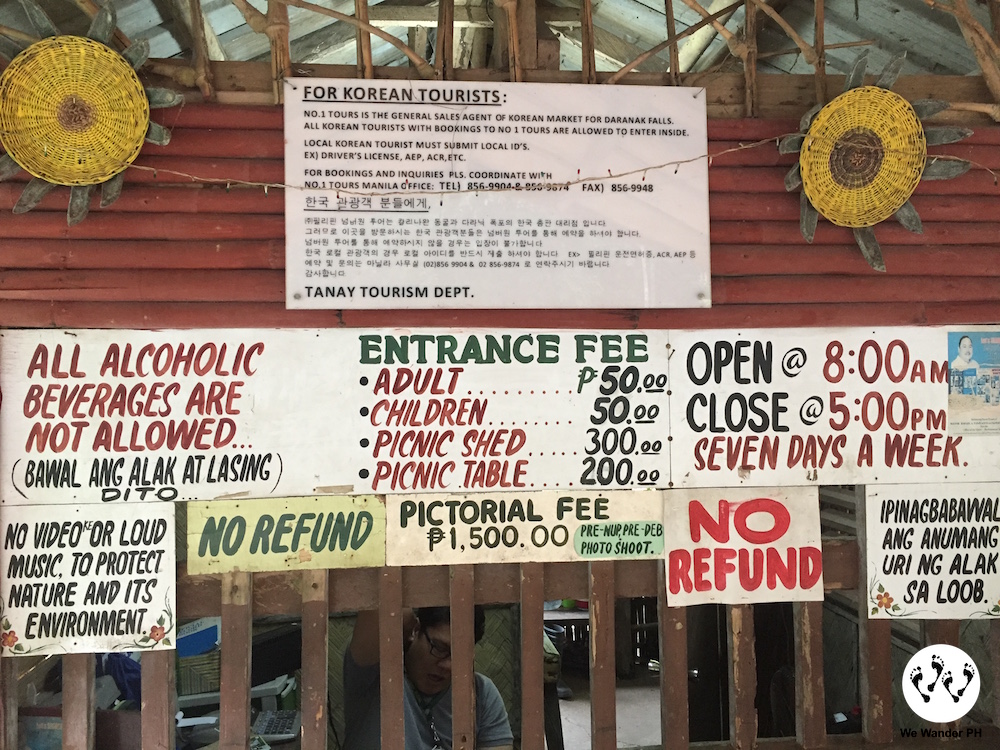 If you don't feel like swimming, you can just walk around and take pictures. Be captivated with Daranak's natural beauty while wading in the cold water. Do some people watching and marvel at the dancing trees and experience the scent of some fresh cool air.
To complete your stay, have your emotions ready for a stunning view of the hanging bridge near the entrance-exit. Take your time to get your best picture. Warning: Passers-by might be in the way of that perfect shot.
Daranak is best shared with family and friends. It is an inexpensive and quick get-away trip near Manila.
Regina Rica
What better way to end our Tanay adventure than to visit the Regina Rosarii, a pilgrimage site, to say our thanks for this memorable and safe trip. The name stands for Regina Rosarii Institute for Contemplaton in Asia and one of the most popular pilgrimage sites in the Philippines. Here you may attend mass, pray and reflect.
Visitors are very much welcomed but would have to follow the dress code. Shorts above the knee, jersey or sando and other revealing clothes are not allowed.  They provide long skirts and shawls that you can borrow for free, just simply present an ID in exchange.
The Regina Rosarii stand-tall at the top of the facility. You can take your pictures near it. There is also available pathways designated for visitors.
Light up a candle and pray. Candles were made in colors depending on purpose. These can be purchased in their store for P25 per piece or bundles for a fixed price.
Walk around and feel the sanctity and peace. There is a church that you can attend mass and listen to the words of God. Pray. Be close to Him.
Souvenirs are also available in the main facility. They have the Regina Rica-like figure, rosaries and ginger gelee. They also sell organic lettuce, sandwiches and drinks. Also try their Panrica bread which are made from organic ingredients.
With our heart cleansed and our soul strengthened, we left Regina Rica for our final destination, a sunset viewing.
Parola
It was 5pm and we knew it's only a matter of time before the sun sets down. We need to get to Tanay Lakeshore and the popular Parola, so we drove crazy fast to get in time. Parola provides a view of the lake and mountains. Serves as a guardian angel for the local fishermen. And draws a magnificent view during sunset.
Awesome view. That is the term best to describe the beautiful nightfall in Parola. The clouds and colors of the skies reflecting in the water combined with the stationed fishing boats, the scene was really amazing. We are a certified fan of sunset and to witness such exquisiteness, is something we felt grateful.
The place is a common outlet for folks who want to see a beautiful view and spend time for a quick walks and snack time. We had our dinner here eating hotdogs and squid balls, cheese sticks and a cold gulaman drink for prices we know that are very reasonable.
Our adventure was indeed memorable and definitely one for the books. We believe there's a lot more that Tanay and the province of Rizal can offer that'll really take our breaths away. We encourage you to visit Tanay and experience what we experienced because as the saying goes:
"Life is not measured by the numbers of breaths we take, but by the numbers of moments that take our breath away."
More Photos:
Expenses
Calinauan Cave
      Entrance Fee – P20 each x 2 = P40
      Tour Guide Fee – (P80 each x 2) + 50 (tip for exploring two more levels) = P210
      Lunch
           burger with egg – P20 x 2 = P40
           softdrinks – P10 x 2 = P20
Daranak Falls
        Entrance Fee – P50 x 2 = P100
        Parking Fee – P30
Regina Rica
         Registration Fee – P20  x 2 = P40
         Parking Fee – P50
Tanay Parola
          Dinner
              hotdog – P15 x 3 = P45
              kikiam – P10
              chicken balls – P10
              cheesestick – P20
              gulaman – P15
Transportation
          Diesel – P300 (guesstimate)
TOTAL = P930 / 2 = P465 each