Bukidnon is known for its mountainous landscapes and is a major producer of rice, corn, sugarcane and pineapple in the region. It is home for some of the highest mountains in the Philippines such us Mt. Dulang-Dulang (2nd highest), Mt. Kitanglad (4th), Mt. Kalatungan (6th), Mt. Maagnaw (8th) and many others.

While surfing the internet to create our itinerary, we came across this Paminahawa Ridge in Brgy. Impalutao in Impasug-ong, Bukidnon. And after checking the images, we knew we have to get there and not miss our chance.
Check out our aerial video of Paminahawa Ridge:
There are package tours being offered online that includes Paminahawa Ridge, CEDAR and other nearby tourist spots. We preferred a Do-It-Yourself (DIY) visit by contacting Sir Bob at 0997-8013135. He is the person in charge in The Ant Farm Outdoors. The fee is Php300/person which includes the local guide and barangay permit. As per Sir Bob, there should be a minimum of 5 members in a group for the hike. Luckily, there were three other tourists looking for joiners.

How To Get There

CDO – Impasug-ong, Bukidnon
From Cagayan de Oro, you can ride a bus from Agora Bus Terminal in Lapasan. Buses like Super 5 and Rural Transit Mindanao, Inc (RTMI) have regular schedules to Valencia, Malaybalay and Davao. Travel time is 2 – 3 hours average.
Ask the driver to drop you off at Impalutao Elementary School. Fare is Php130 air-conditioned bus.
From there, ride a motorcycle to The Ant Farm Outdoors, fare is Php30/person.
There are also taxis from Agora Market Terminal but the fare could be expensive.
Davao – Malaybalay – CDO
From Davao City International Airport, ride a cab heading to Ecoland Integrated Bus Terminal.
Look for the red Rural Transit Mindanao, Inc. (RTMI) buses bound for Cagayan de Oro.
Ask the driver to drop you off at Impalutao Elementary School. Travel time is 5 – 6 hours.
Ride a motorcycle to The Ant Farm Outdoors, fare is Php30/person.
We started the trek at 3:15am from the farm and passed through some slippery trail after about 20 minutes. We continued walking until we reached the wooden bridge. One needs to cross this to get to the other side. There are ascending trails along the way which could be challenging especially at night. Don't forget to bring your flashlight or headlight.

There are a few local "sari-sari" stores where you can take a quick break and buy some snacks and water if needed.

Around 4:45am, we arrived at the foot of somewhat the final ascending trail to get to the peak. The rocks can be tricky so you need to be extra careful. Take it slowly and surely, no need to rush anything. Safety is always the priority. 🙂

At last, it was around 5:15am when we reached the peak, just in time to wait for the sunrise. We put our things down, took rest and munched on our packed food and talked with the other hikers and our guide Kuya Jao. You can connect to him at 0927-9720047.

And when the sun started to appear, the light uncovers the real beauty of Paminahawa Ridge. The ridges are extensive and is one of the most beautiful landscapes we've seen. All the time and effort are all worth it to witness this magnificent creation.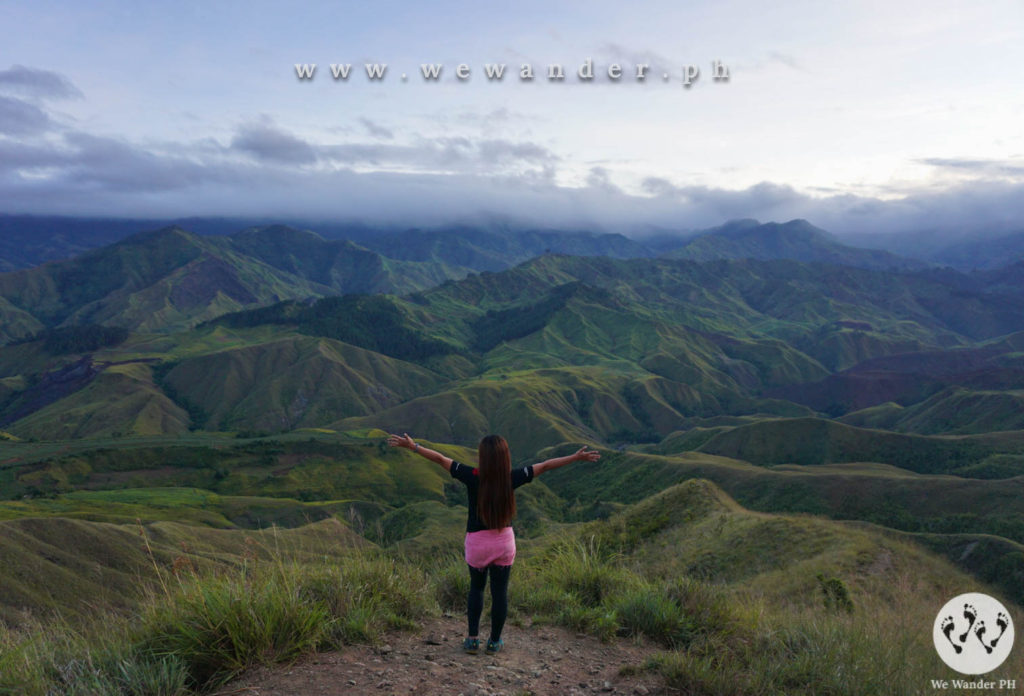 Paminahawa Ridge is also perfect for stargazing and camping overnight. There were more than hundreds of campers when we went there. And since the top has a 360-degree view, sunset could also be inviting to watch.
One of the hills has a backdrop of pineapple farm and is available for camp site.
There is also a spot in Paminahawa Ridge that resembles the Lion King scene when Rafiki (monkey) perform newborn Simba's presentation ceremony in the Pride Rock.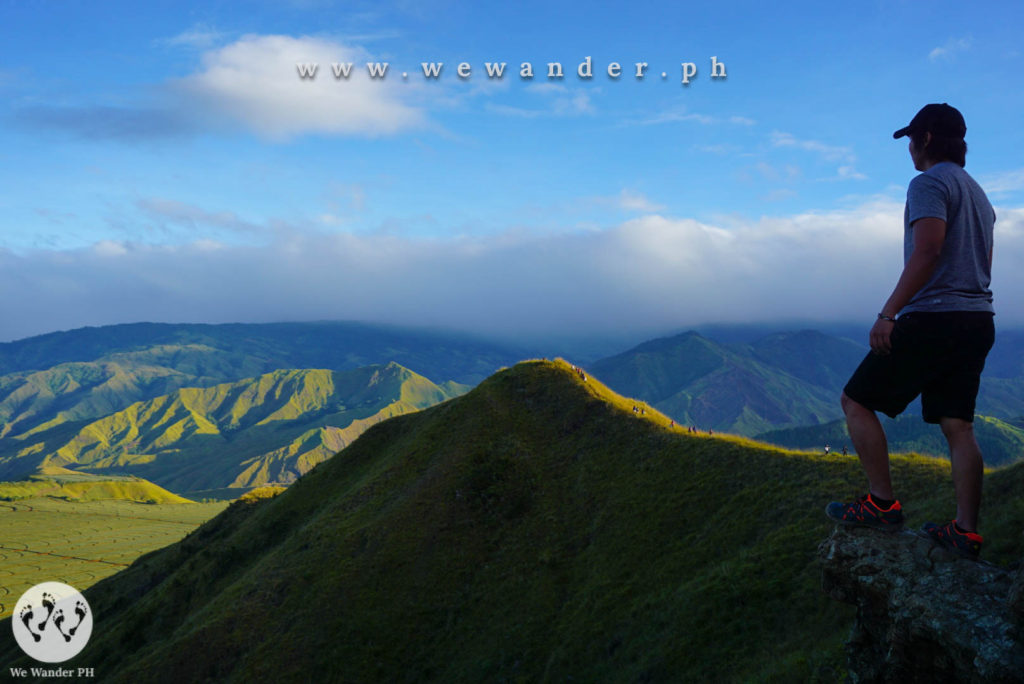 We descended after staying for half an hour after the sunrise and headed back to the farm. It took us around 1 and half hour to the farm, very timely that there were kids selling cold buko juice and breakfast – hotdog, fried chicken with rice.
After a short break, we headed to Center for Development and Recreation, a project of DENR with an estimated area of 1,700 hectares. There are three waterfalls that can be found here namely, Gantungan Falls, Natigbasan Falls and Dila Falls. CEDAR is the usual sidetrip after the hike, so you may expect that the same people you've seen during the hike are the same sets of people you'll see here.
There is an entrance fee of Php20 per person and CEDAR is requiring tourists to be accompanied by a local guide to get to the falls. Our guide is the habal-habal driver we got from the farm, Kuya JR Gamas. His contact number is 0975-3312651.
Natigbasan Falls
After a short walk and trek, you will see a small natural pool. A cold spring perfect to freshen up your exhausted body after the hike. We saved it for last so we headed straight on the trail. For about 5 minutes, you will be able to hear the raging waters. This is Natigbasan Falls and if you choose to get near it, you need to go down and cross the water.

Gantungan Falls
Few minutes after, Gantungan Falls can be seen right in front of the trail path. Your guide will ask you if you want to go down to check it closely.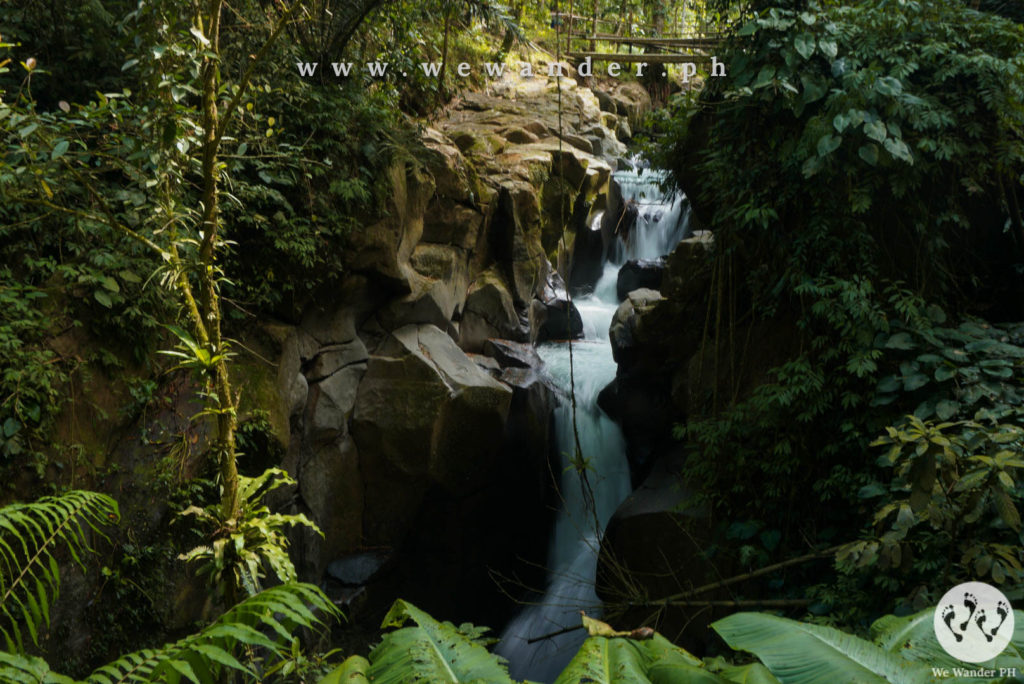 We decided to take some pictures and resume trekking. A nice closer look of Natigbasan pool is nearby, so if you want you can have a quick swim here.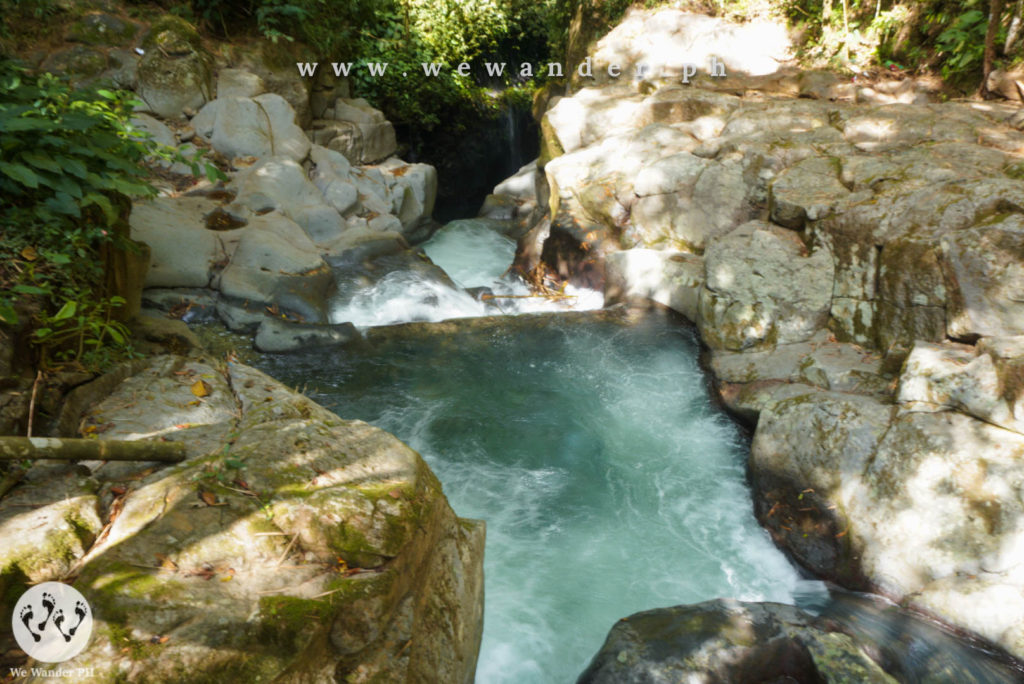 We saved our energy and time for the last which is considered the highest of all three. It took us 30 minutes to get to Dila Falls but hey! It will not disappoint you.
Dila Falls
Dila Falls as the name implies is like the shape of a tongue. The water flows and drops heavily and powerfully below the basin supplying its magnificent river stream with gigantic boulders.

To get a closer look, we crossed the steep trail and stepped on those huge rocks. Getting near it, you will feel the cold mist produced by the water drop.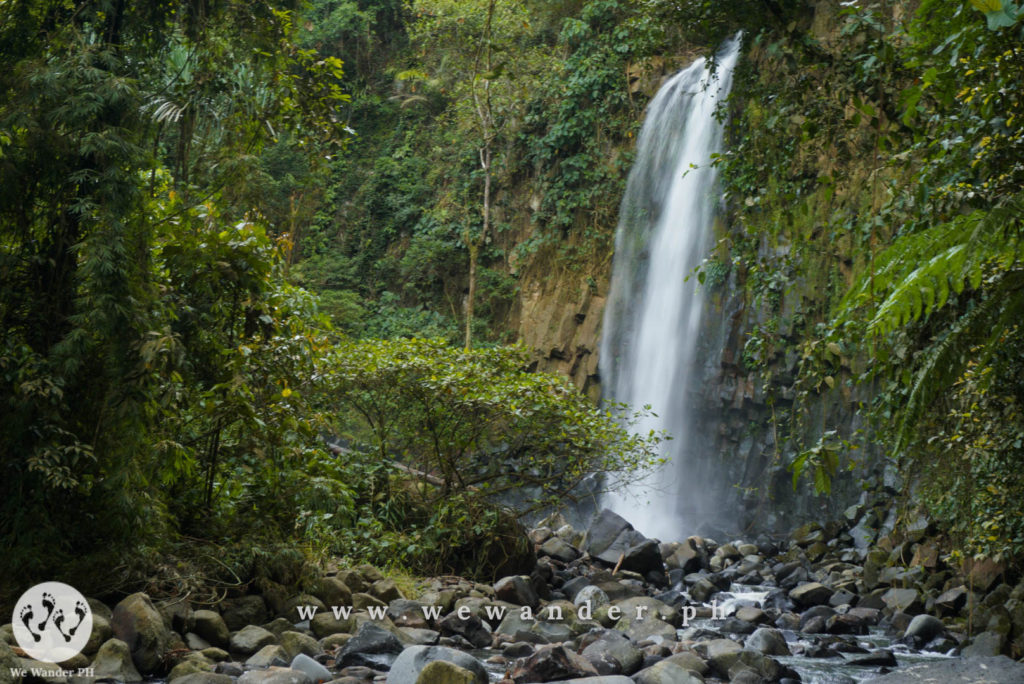 It was amazing. The falls is beautiful and stunning and the good thing is, no one was here when we arrived.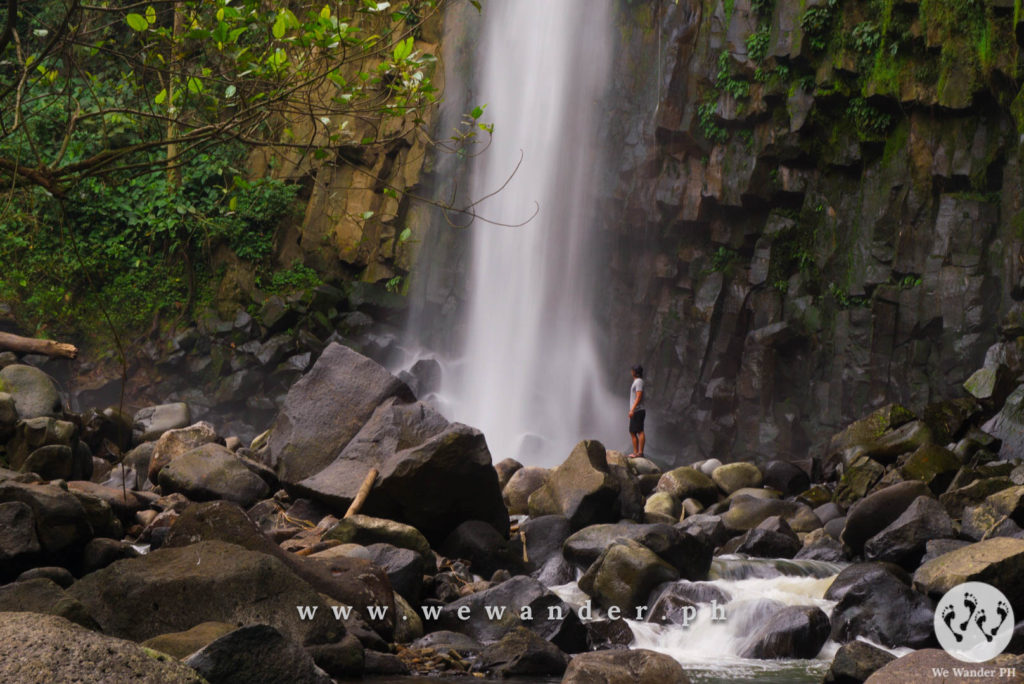 The experiences both from Paminahawa Ridge and CEDAR Falls are something that we can recommend especially to our readers. Bukidnon and Mindanao is safe. The people are friendly and welcome each tourist warmly. Some of them even told us, "Buti nakapunta kayo dito samin," when they learned we came all the way from Manila. Well, we are coming back. There are more places to visit and explore in Mindanao and we have only just begun.
Comments
comments