A must-try and extraordinary adventure in Baras, Rizal.
The Masungi Georeserve's discovery trail opened to the public back in December 2015. And from there, travel enthusiasts, local and international alike were craving to get to experience this exciting and unique attraction.
The discovery trail is composed of karst terrain or limestone rock formations. Mostly, this feature is a common sighting in the conservation area. The trail is also covered by thick trees that give shade to trail trekkers. But the most thrilling part of the adventure is the obstacle course.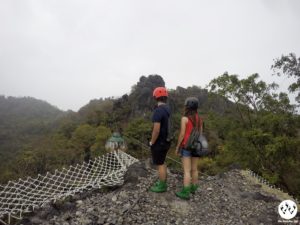 Sapot
This gigantic web-style viewing platform will test your balance but in return, you'll get to see the amazing view of Laguna de Bay and Sierra Madre mountain range. There are wood boards positioned in circle with one in the middle. This is a good setting for your barkada picture and needs a little creativity.
Yungib ni Ruben
An example of cave formation which is a part of a karst landscape. This spot is like a resemblance in a classic movie with a scene more likely doing some spirit rituals. The place is dimmed but somehow being radiated by sunlight through small openings.
The Peaks
There are peaks namely: Tatay, Nanay and Ditse.
Tatay is the first and tallest among the peaks and has a natural sculpture and rock formations. The view on top is also fascinating.
Nanay, the second peak and characterized by five limestone which are interconnected by bridges.
Ditse
Patak
An air house connected by a rope bridge. This small space usually serves as an area to wear the foot cover and for a quick rest stop.
Duyan
A huge hammock hanging from end-to-end side. This is one of the most picturesque feature of the trail. And it's obviously why. This long and wide braided white ropes suspended on top and with all the different hues of greens from below and almost everywhere will captivate everyone's eyes.
You may stand, sit or lay down dramatically. Every angle is surely stunning.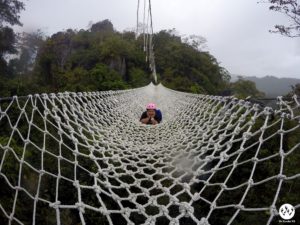 Liwasan
This serves as a rest area for visitors who want to have a pause and re-energize themselves before the final ascent to visitor sheds. It has also a bird bath feature.
Bayawak and Sawa
The new trail features Bayawak and Sawa will give further adventures to visitors. Bayawak is best described as the largest lizard within but for the obstacle, certainly it is one not to be missed. The last is Sawa. A snake-shape trail with magnificent view of Liwasan.
The Trail Experience
The trek adventure will last for 4 – 5 hours depending on the pace and capability of the guests. A group should have a minimum of 7 participants with maximum of 14 can be accepted. The group will be assigned their park ranger(s) to guide them along the trail to ensure safety. They will also be the ones to orient the guests on the To Do's and policies of Masungi activities.
The trail package consists of a safety helmet, a light bag and a complimentary light refreshments. They encouraged the guests to bring extra water bottles (preferably 1 liter) and additional light snacks (optional).
Conservation Fees
Effective January 1, 2017, the following conservation fee will be implemented:
Weekday Rate: P1,500/guest
Weekend Rate: P1,800/guest
Reservation
Note that the guests may only be accommodated on a reservation basis and NO Walk-ins allowed. It is recommended to book your scheduled visit a month ahead of time for a weekend request.
Requesting for a Visit
Visit requests may be placed thru their website at www.masungigeoreserve.com/trailvisitrequest
Downpayment
Downpayment is required to get the slot. The Conservation Fees may be processed via Bank Deposit or Credit Card Payment.
For other concerns and inquiries, you may check their website at:
http://www.masungigeoreserve.com/frequently-asked-questions/
Location
Masungi Georeserve
Garden Cottages, Kilometer 47 Marcos Highway,
Baras, Rizal, Philippines
What to Wear
Preferably lightweight and comfortable clothing. A drifit shirt is recommended as the entire adventure will make you sweat. Wear a non-slippery sandals or closed shoes (trekking shoes). Apply sun-protection cream/lotion or wear long sleeve cover.
Things to Consider
No walk-ins are allowed. Visit should be on a reservation basis.
Always practice the LNT principles all throughout the activity.
Strictly no smoking.
Too much noise is not permitted. Avoid shouting and playing loud music from your gadgets and mobile phones.
Bring extra clothes, snacks, water and other essentials. There are no nearby stores other than Masungi's Silayan Dining.
Note: You may check Masungi Georeserve Policies at http://www.masungigeoreserve.com/georeserve-policies/
How To Get There
Private Transport
Best route to follow is thru Marcos Highway which will basically passing through Masinag, Cogeo and Palo Alto. Entrace to Masungi is the Garden Cottages and noticeably in the right side.
Public Transport
From Crossing (Shaw Boulevard), you may opt to ride a jeepney going to Tanay. Terminal is near Starmall. Drop off at Tanay Town proper and from there, you may hire a tricycle going to Garden Cottages.