Baguio has reopened its door to domestic tourists starting October 26, 2021. And it is the perfect place to have that much-needed rest to treat yourself and once again enjoy the cool weather and scenic mountain views of the country's Summer Capital, Baguio!
We are thrilled to share the detailed travel guide and the needed requirements when going to Baguio. Save this and plan your visit now!
Travel Requirements and Guidelines
While the vaccination rate continues to increase, the threat of the Covid-19 virus is still around. Follow the guidelines and requirements set by the local government and you'll have yourself roaming around Baguio in no time.
Get your QTP before entering the province
Schedule a visit on Baguio Visita ahead of time before your trip. QTP will be issued upon verification of booking by selected accommodation establishments.
Limited individual travel registrations allowed per day on a first-come, first served basis.
No QTP, no entry at checkpoints
Secure your Vaccination Card/Certificate
Visitor must be fully vaccinated; two weeks must have elapsed after the second or last dose.
Bring your vaccination card/certificate with you.
Unvaccinated or partially vaccinated minors aged 12 to 17 must-have tested negative with RT-PCR or Antigen test taken within 72 hours prior to arrival or during health screening at the City Triage. For minors aged 11 and below, testing is at the discretion of the parent or guardian.
Triage upon Arrival
Visitors must proceed to the triage for health screening and verification of QTP and health documents.
Symptomatic visitors regardless of vaccination status or test result will be immediately tested and isolated and referred to health officials for further action and advice prior to the visitor's return to the point of origin.
Wearing of Face Mask and Maintain Social Distancing
Residents of Baguio and visitors are required to wear face mask wherever they go.
Practice social distancing and bring alcohol with you. Wash your hands regularly.
What to do in Baguio
Whether you are a seasoned traveler who visited Baguio several times or a first-timer, these tourist destinations will help you plan and create your itinerary.
Explore Mirador Heritage and Eco Park
One of the newest attractions in Baguio is Mirador Heritage and Eco Park located in Mirador Jesuit Villa and Retreat House where Lourdes Grotto can also be found.
The way to Mirador is an uphill drive and going around the park requires one to walk through established stairs upward and downward.
The place has several stunning spots like rock gardens, bamboo grove, and a scenic shrine standing at the edge facing the mountain view and colorful houses of Baguio City.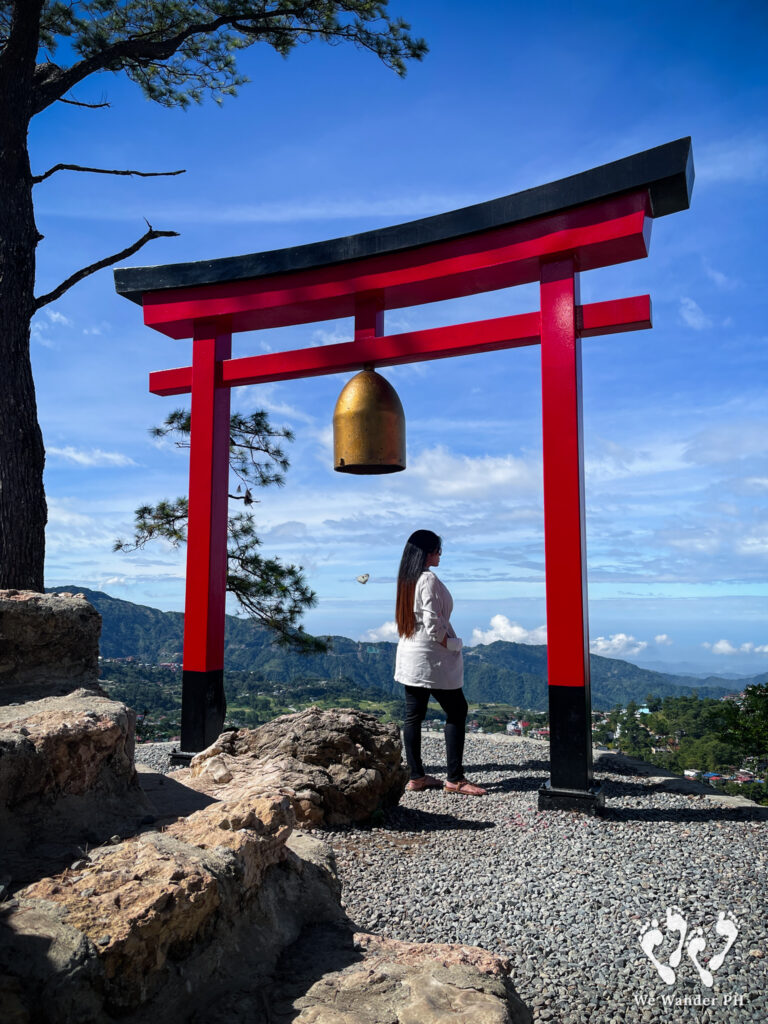 Parking Fee – Php25
Entrance Fee – Php100
Opening Time – 6AM- 6PM
Visit the Old Diplomat Hotel
The Old Diplomat Hotel is an abandoned building that served as a camp for refugees escaping the Japanese army during World War II that was later on invaded and has suffered terrible acts of brutality, rape, massacre, torture among other gruesome histories.
It is considered one of the most haunted places in the Philippines. As of December 2021, entering the Old Diplomat Hotel is prohibited due to the recent typhoon that caused some damages to the building.
Wander around Igorot Stone Kingdom
The Igorot Stone Kingdom is the newest attraction in Baguio that is a man-made park made out of stone inspired by the fantasy kingdom and rich cultural heritage of Igorots and various provinces in the Cordilleras.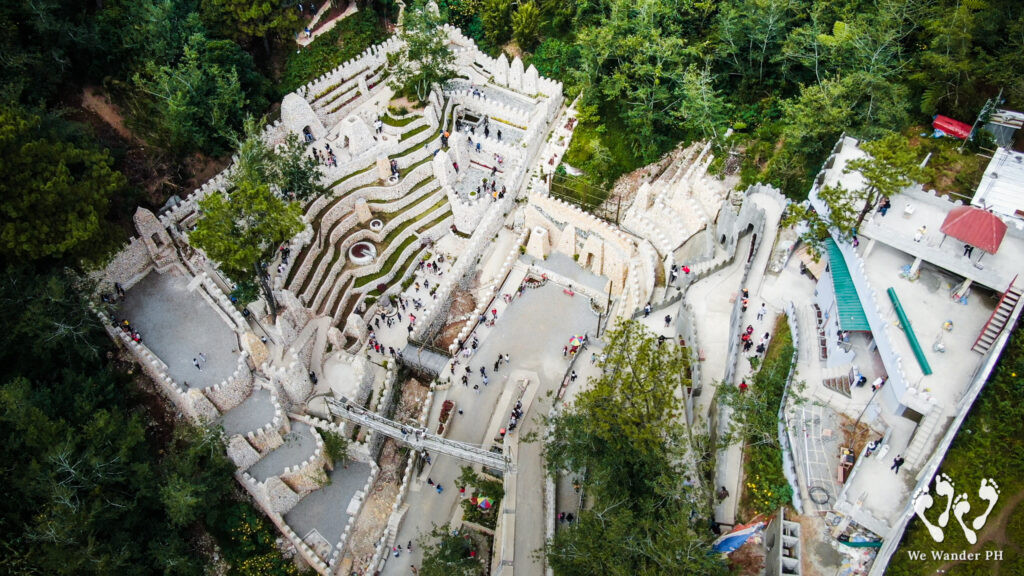 Igorot Stone Kingdom is located in Longlong Road at Pinsao Proper where a nearby attraction of Tam-Awan Village can also be found.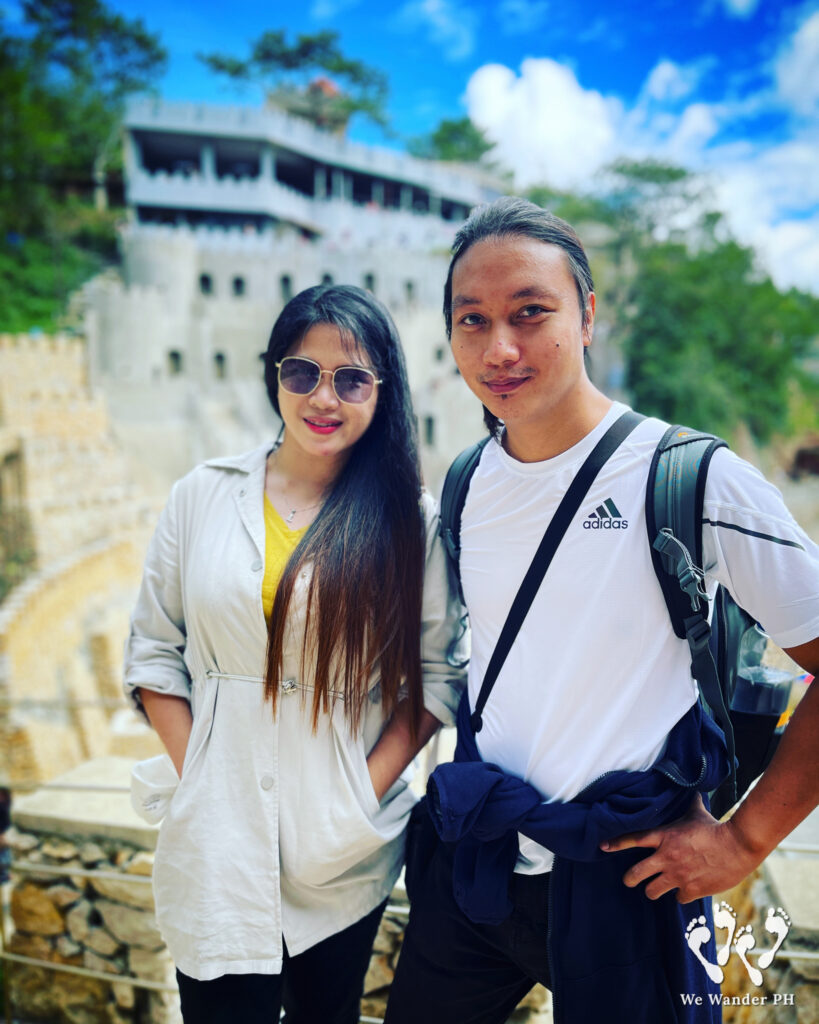 The Igorot Stone Kingdom is astonishingly beautiful that will surely surprise you. The place is huge with several locations perfect for taking photos. There are mini-stores inside for quick bite and Igorot attires for rent in case you want to wear traditional clothing and take pictures.
Entrance Fee – Php100 adults, Php80 for senior and kids
Opening Time – 6AM- 6PM
Visit the Strawberry Farm in La Trinidad
Benguet is the Strawberry Capital of the Philippines and in La Trinidad, you will see the large plantation of strawberries. Travelers are allowed to do strawberry picking for Php500 for a kilo of strawberries. Approach one of the farmers and they will gladly assist you.
As of December 5, 2021 strawberry fruits are not in full bloom. The best time to visit it is during its peak season from March to April.
Buy Souvenirs
When in Baguio, surely buying souvenirs for your loved ones is almost automatic. The Good Shepherd Ube Jam is on top of the list. Make sure to go early to Good Shepherd Convent to buy the original and famous Ube Jam but in case you missed it, you can also buy them from the markets around Baguio and La Trinidad.
The market near the strawberry farms in La Trinidad has everything you need, they have all types of souvenirs such as key chain, ref magnet, wines, whish broom or walis tambo Baguio, ube jam, and many more. If you are a plant lover, there are many stores that sell various plants and flowers, succulents, etc.
Try the Strawberry Taho and Strawberry Ice Cream
One of the things we're excited about when visiting Baguio is to taste the flavorful strawberry ice cream and taho. The ice cream is creamy with a mix of sweet and sour made from fresh strawberries. The strawberry taho on the other hand is perfectly sweet with some huge chunk of strawberry that will make you drool for more. They also have ube taho, which is equally delicious.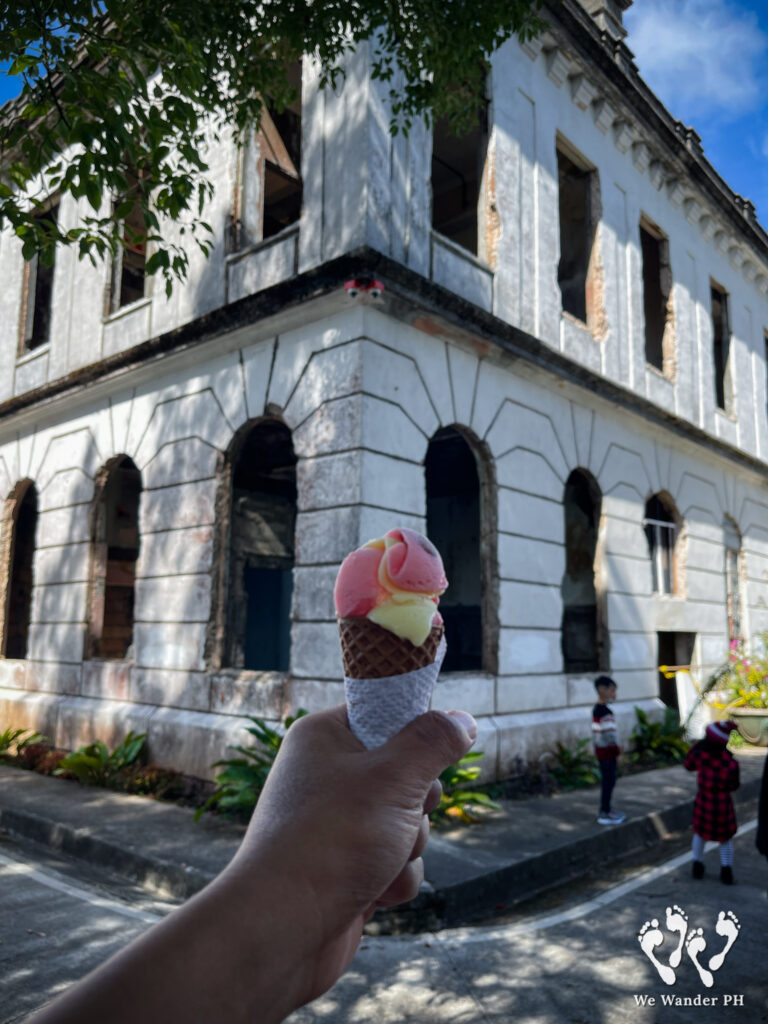 Watch the Sunset in Mt. Kalugong Cultural Village in La Trinidad
Benguet is a high-altitude place with overlooking views and scenic mountain views. But if you are looking for something new to experience, visit Mt. Kalugong Cultural Village in La Trinidad, Benguet. The sunset here is remarkable and the rock formations with an overlooking view of La Trinidad town and houses are splendid! This place is accessible by car following the road uphill and a quick trek to reach the peak where campsite, pine trees, food store, swing, and many more are waiting for you.
Watch our video of Mt. Kalugong here: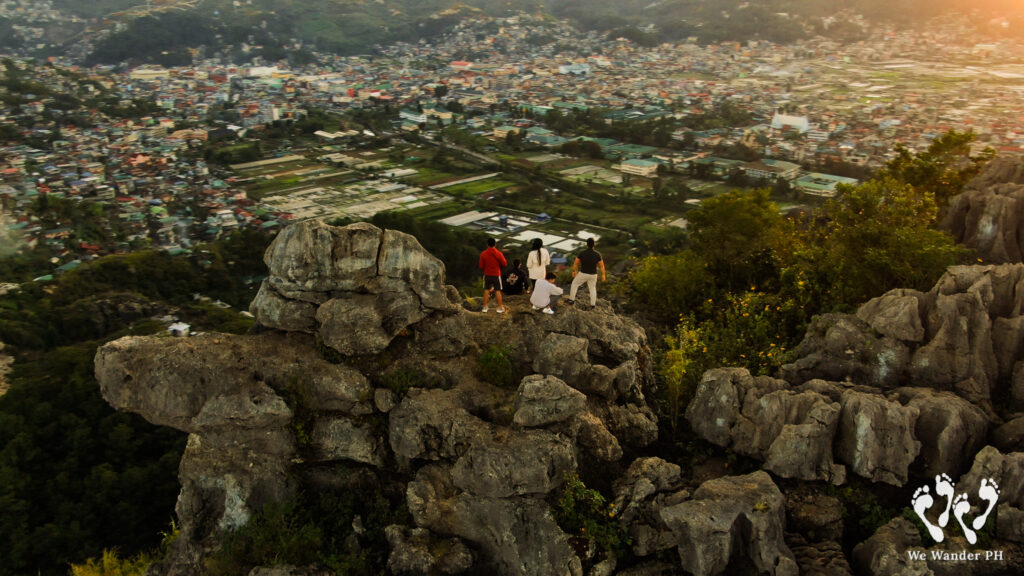 Experience and Enjoy Snowfall in Christmas Village
The Baguio Christmas Village in Baguio Country Club is a must when you visit it during the holiday season. It is open from October 29, 2021 to January 9, 2022.
Enjoy makeshift snowfall, live musical performances, picture taking with Santa, and colorful Christmas lights around the village.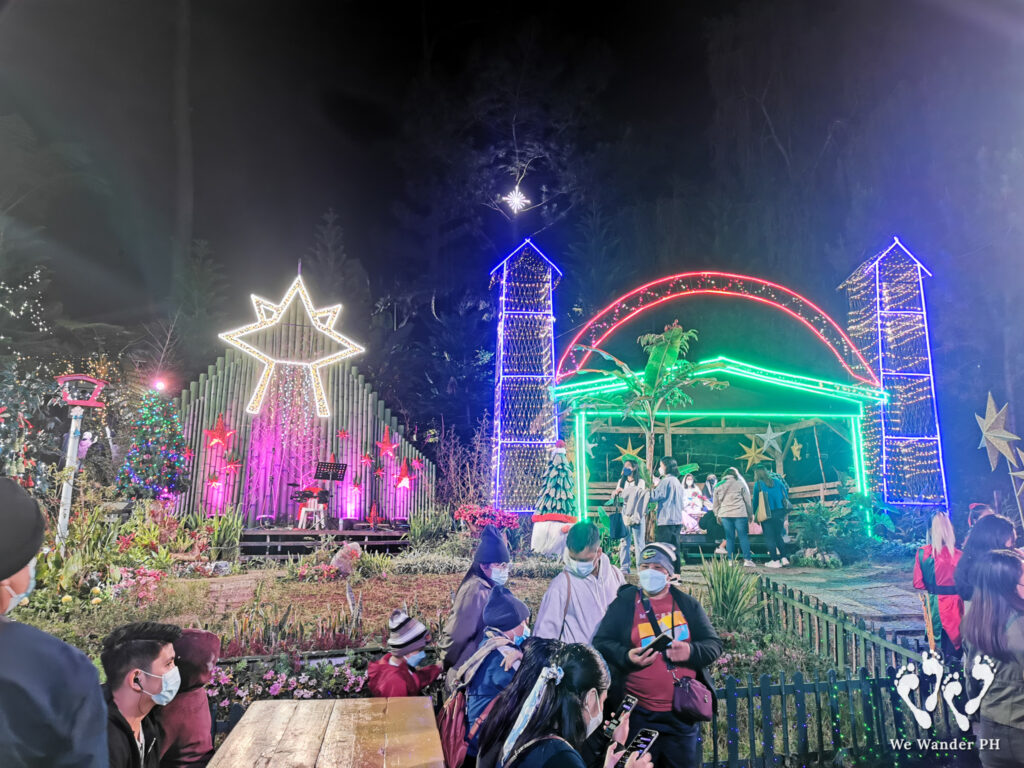 Shop and Dine in Baguio's Night Market
Baguio's Night Market in Harrison Road is a must if you love locally made products and looking for affordable goods like bags, shoes, jackets, shirts, shorts, jeans, caps, dresses, and many more! The other side of the market is food stalls where you can eat and dine in various cuisines.
The Harrison Road is inaccessible at night to public and private vehicles so make sure to plan where you need to park your car when visiting the night market or look for an alternative route when passing through.
Where to Eat in Baguio
Good Taste Café & Restaurant
If you are a frequent traveler in Baguio, you know for sure that Good Taste is one of the quick options where you can eat affordable meals of Filipino, Chinese and Asian cuisines.
You should try beef broccoli, sweet and sour pork, lechon kawali and shanghai lumpia. They have a generous serving that your family and friends can share and enjoy. Don't forget to try their hot cocoa with milk, one of my favorites and perfect for Baguio's cool weather!
Choco-late De Batirol
Inside Camp John Hay's Igorot Park is where you can dine in the garden restaurant of Choco-late De Batirol. They take inspiration from Kapampangan cuisines so you know what to expect. You can try pork binagoongan, beef caldereta, dinuguan, and of course a cup of hot classic Choco-late de Batirol.
Farmer's Daughter
Farmer's Daughter serves traditional Cordilleran dishes. It is located in Longlong Road just a few steps away from Tam-Awan Village. Have a taste of their smoked beef, pork, or chicken, a bowl of "pinikpikan" or Traditional Cordilleran soup, and many others.
Where to Stay in Baguio
There are many hotels around Baguio and nearby areas where you can choose to spend the nights enjoying the cool weather. We booked our three days and two nights stay with Valleypoint Campsite in Santo Tomas Road in Tuba, Benguet. This is less than 30 minutes away from Baguio proper.
This is our second visit with Valleypoint and we are more than happy with the improvements to their facilities and customer service. We stayed in one of their glamping tents facing the overlooking view of the mountains. The weather may change quickly from a clear sunny day to foggy and we both enjoyed them.
The package worth Php1,250 for 2 pax per night includes the glamping tent accommodation, PM snack, dinner, and breakfast. They all have good servings and you can enjoy unlimited coffee too! Archery, airsoft, camper's chill area, board games, card games, sunset watching are the things you can do here aside from a happy family and friends bonding!
How to Get to Baguio from Manila
Going to Baguio is convenient when you have a private car especially during this pandemic. You can search in Waze or Google Maps the hotel where you will stay in Baguio and it will follow any of the two routes:
Drive to NLEX/SCTEX and straight to TPLEX passing through Pozorrubio, Rosario-Pugo Road and Tuba in Benguet. This is the quickest and shortest route to Baguio.
Drive to Valenzuela, Bulacan passing through DRT Hiway, Maharlika Hiway, Tarlac-Sta. Rosa Road and the stretch of MacArthur Hiway. This route is good if you are not rushing to get to Baguio and like to enjoy the long drive.
Travel Essentials
For travel and trekking needs, check out these items we used in our recent adventures all from Decathlon Philippines.
Forclaz 60L Travel Trekking Backpack
Forclaz 40L Travel Trekking Backpack
Forclaz Travel Trekking Jacket